Brilstone Clusters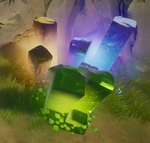 Brilstone Clusters of different elements grow all across the Hollow Lands and on Elemental Shrines. Brilstones can only be activated by magic corresponding to their own element. Upon activation, they grant a +20% Spell Damage and -20% Sorcery Cooldown buff to the Brillstone's Element for 30 s.

In addition, Brilstones react violently when activated:
Red Brilstone      | Fire      | 30 damage explosion
Brown Brilstone | Stone | 30 damage explosion
Blue Brilstone    | Frost  | Spawns Flash Freeze
Green Brilstone | Toxic  | Spawns a Toxic Cloud
Yellow Brilstone | Wind  | Spawns a Tornado
Purple Brilstone | Lightning | Lightning Strike

Click here to edit the tooltip.
See Also
[
]