Obi-Wan Finale - The Loop
Play Sound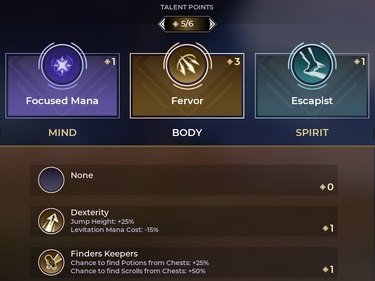 In Spellbreak players can unlock unique Talents to use in combat. They serve to enable build customization and enhance a player's playstyle.
The talents are divided into three categories; Mind, Body and Spirit.
Players have a total of 6 Talent Points they can spend on talents among these categories, but they may only choose 1 talent per category.
Picking none of the Talents in a category is also an option.
Talents are active from the beginning of a match and may be upgraded up to 3 times, indicated by the small circles around their icon.
They are upgraded by reading

Scrolls associated with the category the talent belongs to.
E.g. reading a

Body Scroll will upgrade the player's chosen talent from the Body category.
Scrolls are primarily found in

Chests, and the ones spawned this way will always be of a category that is readable by the user.
Players who have read a Scroll will drop one of them by random when exiled.
Only three talents are unlocked by default, the rest are unlocked by reaching Mastery Rank 3 or 6 with a specific Class. Each talent load-out is saved per Class.
Talents

  Icon  
Name
Point Cost
          Unlocked By           
Rank
             Description             

Mind

Focused Mana
1
—
—
On Full Mana: Spell Damage +15/18/20/30%

Spellslinger
1

Rank 6
Store extra Gauntlets and Runes in your Inventory.
Sorcery Cooldown: -5/8/10/15%

Harmony
2

Rank 6
Immune: Slow, Freeze, Shock
Incoming Damage Reduction: 5/7/10/15%

Tracking
2

Rank 3
On Spell Hit: Outlines target for you and your squad for 3/3.5/4/6s.
Reveals target through walls, terrain and Invisibility.

Runic Fluency
3

Rank 3
Max Rune Charge: +1
Rune Cooldown: -5/7/10/15%

Body

Dexterity
1

Rank 3
Jump Height: +25%
Levitation Mana Cost: -15/18/20/30%

Scavenging
1

Rank 6
On Exile Opponent: Restore 25/30/35/50 Health and Armor.

Fervor
2
—
—
Spell Cast Speed: +15/18/20/25%

Finders Keepers
2

Rank 3
Chance to find Scrolls: +50/75/100/150%

Fortitude
3

Rank 6
Create a barrier that absorbs one source of damage before reforming.
Cooldown: 60/50/45/30s

Spirit

Escapist
1
—
—
On Damage Taken: Run Speed +2/3/4/5 (5s)

Recklessness
1

Rank 6
On No Armor: Spell Damage +15/18/20/25%
On No Armor: Mana Cost -15/18/20/25%

Recovery
2

Rank 6
On Health Damage: Regenerate 50% of damage taken over 10/9/8/5s

Thirsty
2

Rank 3
Potion and Shard Consume Speed: +50/60/75/100%
Potions and Shards affect nearby teammates for 50%. (30 m)

Vital Stone
3

Rank 3
On Disruption (once): Resurrect with 10/25/35/50 Health.
Immune for 4s after Resurrection.
Reading a Spirit Scroll refreshes the Talent.